(Before you read this, please remember I am still on the "mom-to-be" side of the fence and learning the ropes).
Several weeks ago I went into an unfamiliar Babies R Us and pretty much tried speaking to the salesperson in their native language, which isn't my own, to find plain cloth diapers so I could make some cute burp cloths. I had registered for some and had seen them before, but lo and behold, I got home and had bought the single layer ones which could be used to strain yogurt as far as I'm concerned! Frustrated, and definitely not in the mood to go back I washed all of the diapers anyway and then decided how to make the most out of my mistake.
I pressed all of the single-ply diapers after they were dry and hung them in my sewing closet so I wouldn't have to unroll the edges again. I was invited to a baby shower and decided that I could in fact still make basic cute burp cloths, it would just take a few extra steps.
So, using two diapers, I lined up the edges as best as I could and then folded them under to pin.
I used a tight straight stitch close to the edge of the fabric to make it as clean as possible.
I pulled out the Winnie the Pooh fabric I had purchased, in keeping with the theme of their nursery, and decided how wide I wanted to fabric to be. I didn't want it to cover the cloth completely, but did want more than a small area in the middle covered. Then I measured and cut the fabric.
I pressed the edges of the fabric to help with my effort for clean lines and then pinned the cotton fabric onto the already sewn together cloths.
Using contrasting red thread and a zigzag stitch, I sewed the Winnie the Pooh sections onto each "double-layer diaper."
Hopefully the mom-to-be likes them since they are part of her shower gift. I realize I would have saved alot of time just buying a new pack of the 6-ply cloth diapers like I originally intended, but what can I say, pregnancy has made me do some silly things :). Once I start making some for our little one, I WILL be able to skip the first few steps and get right to the fun part: selecting the cotton fabric!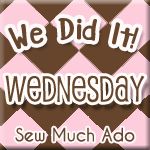 The Thrifty Home