Happy December!! I thought I'd start off the month with an easy recipe that is a great way to spruce up dessert!
On Saturday we had two good friends over for the evening and to watch the Clemson-USC football game (no I do not want to discuss the results). I always take advantage of having additional guests at our home to try new recipes that I wouldn't necessarily do on a "normal" night since we don't get home from work until 7 p.m. This time I opted for dessert when I saw
this post
from Random Thoughts of a SuperMom. I did modify it to make it easier and use a different ingredient. For the record, you will notice that some of my posts coming up are not my original ideas, which is why I link back to the owner...I have no qualms about admitting that I got the idea from them!
I started with four apples (3 granny smith and one leftover from the orchard down the road). I cut off the tops of each apple and then cored it using a knife and grapefruit spoon with the "spikes" on the end. I could not find caramel chips for the life of me, so instead I bought bits of Heath Bar which I suppose technically made them toffe apples, not caramel apples. I also bought a small bag of already crushed nuts, like the kind for ice cream sundaes, so I didn't have to crush up anything.
I combined some toffee bits and nuts in a bowl and then filled up the cored apples. I spooned a dollop of butter on top of each and put in the oven for 35 minutes at 350 degrees. I bought vanilla ice cream (so that means we have four types of ice cream in our freezer...blame it on my pregnancy) which was delicious on top.
Hope you enjoy!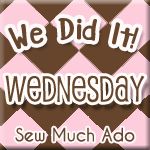 Whatever Goes Wednesday
,
Blue Cricket Design
,
What's Cooking Wednesday, Somewhat Simple, Rock Your Recipes, Tatertots & Jello